Freq Form is a collaboration of two artists bringing their unique take on sound design together to deliver fine samples to an audience that is not satisfied with typical sounds in their production.  We employ a host of vintage and modern (both high-end and lo-fi) analog and digital instruments and processing and combine them with an insane work ethic and attention to detail.   Here is a little more info about who we are:
  SHOOFLY
Shoofly is Jesse Schuh.  Jesse has had a love for all things rhythmic and melodic since he was a just a little dude. From the rhythm of the clothes dryer singing him to sleep as it sang it's lullaby in the next room in the house he grew up in, to the droning melodic rhythms the tractors made that he drove growing up on the farm. He was always drawn to listen to and express himself with sounds, beats, and melodies often found in everyday things.  Much like a diamond his interests in genre and discovery of art through sound is multifaceted.  He is a believer, He is an Imager, He has a beard.
STEVE HARMON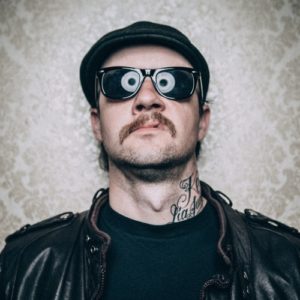 As a hustler by trade, Steve has always found ways to "make it work."  After failing at working for others, Steve has mostly worked for himself.  The first part of his career was as a photographer and graphic artist and in 2009 he started making his own electronic noise circuits and began selling them under the name Synthrotek.  Steve enjoys circuit bending, hacking circuits, making strange noises, and hunting for junk.